Rules and explanations for authors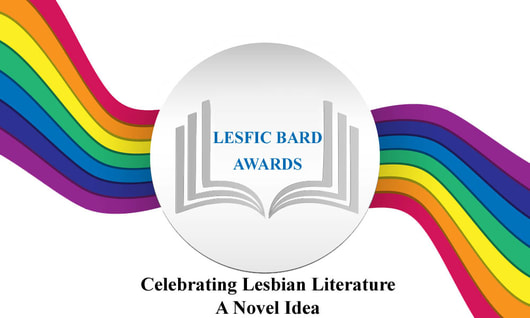 ​
​Winners and Finalists get National Media & Industry Exposure!
​
DON'T KEEP IT A SECRET - INDUSTRY AWARDS AND REVIEWS CAN HELP SELL BOOKS! PROMOTE YOURSELF WHEN YOU'RE AN AWARD WINNER OR FINALIST!
Promote your Winner or Finalist award in all your marketing materials. We provide an easy to download banner to promote your winner status. In addition, you can purchase gold or silver stickers to put on the books you have already printed. Lastly, check out our Promotion page for help with additional exposure to key book-buying audiences. Being recognized as a Winner or Finalist of the Lesfic Bard Awards is a celebrated honor given by industry experts, and you'll want everyone to know!
​
AWARD RULES Eligible Books
Any book submitted is subject to eligibility of the Lesfic Bard Awards© selection committee.
All books must be in final published print or e-book form.
First publication date must fall between January 1 to December 31, 2018.
All titles must have an ISBN-13.
We require one copy of your e-book PER category entered.
One submission form can be used for multiple categories, but all book copies must accompany
the Submission Form
We reserve the right to change book categories where it is deemed appropriate.
Lesfic Bard Awards is open to all English language books that are available for sale wherever​

good books are sold, both online and in bookstores.

This award is for ALL books and publishers.
Book Submissions
Book submissions must be received by the published deadline to be considered, and any book​

received after the deadline will automatically be considered for the next year's judging process.

Book submissions cannot be returned. Each entry must include the official entry form​

including your email address and contact telephone number.

​
​
Lesfic Bard Awards© Refund PolicyAll sales are final. There are no refunds
. Only appropriate submissions will be eligible to enter the contest. Lesfic Bard Awards© therefore reserves the right to refuse any material for any reason without issuing a refund.
Notifications and Deadlines: we do our best to notify you via email of any new contest(s). You have until Midnight CST (North American CST) on December 31, 2018 to enter your book(s) in the various
categories
.
Winners and Finalists in each category will be notified by email.
ENTRY FEES AND DEADLINE
$45.00 per entry/per category. The cost for each additional category (up to a total of five) is $40.00. Six or more categories costs $35.00 each.
$50.00 per entry for each cover.
All monies must be in U.S. dollars.
All titles must have an ISBN-13 and be published books available on Amazon.com.
All submissions are requested by December 31, 2018.
Winners and Finalists will be notified mid-May 2019.
All submissions are final.
There are no refunds.
You may include multiple categories on one submission form but you must copy

the submission form and include a copy with each book you submit per category (for mail-ins

only).
(All international checks or money orders must have "USD" or "US Dollar" pre-printed on the
check/money
order.)
Please include proof of payment by PayPal or check with your entry submission. Make checks
payable to:
"Lesfic Bard Awards" and mail to:
​
Lesfic Bard Awards8014 Olson Memorial Highway #446Minneapolis, MN 55427
You may pay by credit card using the PayPal link below, or mail your check or money order (U.S. funds) with your book submission.
Go to the Categories page, or click on link here to view the:
OFFICIAL CATEGORIES OF THE ANNUAL Lesfic Bard Awards®
​​
PayPal Online: Please use this form
Lesfic Bard Award
s Annual Online Entry Form and Online Payment. After payment has been cleared, an email acknowledging your payment will be issued, and if accepted a number will be issued for you to submit your actual manuscript per the format as outlined
here
.